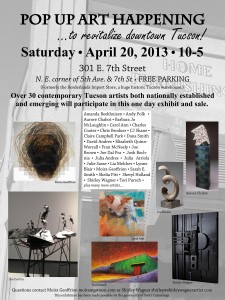 Moira Geoffrion, 3 solo installations, New Works grant, funded by the Southern Arizona Community Foundation and TPAC. These installations are meant to be viewed from the sidewalk.
1. REDEFINED SPACE: ENVIRONMENTAL LAYERS, at 301 E 7th St., NE corner of 7th          St. and 5th Ave. Tucson AZ. March 22nd- May 15th.
2. CATAGENESIS: PAST to PRESENT at 45 N. 6th Ave, East side between Congress and Pennington. Tucson, AZ. March 30th – June 1st.
3. CATAGENESIS: REDEFINING SPACES at the U of A downtown windows gallery at the SouthEast corner of Pennington and Stone. Tucson, AZ. June 1st – July 1st.
Moira Geoffrion, 30 paintings in group exhibition, 301 to 307 E. 7th St. at 5th Ave. Tucson, AZ. April 19-21. 11am to 4pm each day.
Moira Geoffrion, 1 painting. Small Works Exhibition, Davis Dominguez Gallery. Tucson, AZ. May 9th – June 29th.